Online reputation management
The age of smartphones and high-speed internet means "instant access" to information is just a few keystrokes (or a few spoken words using "voice to text") away. Because information is so readily available, it allows us to make decisions quickly when we need to. However, from a business perspective, this can create challenges if you aren't properly monitoring your online presence.
For example, take the list of businesses listed below when I ran a simple Google search for "auto repair in Cleveland." If you were looking for a place to take your car for repairs and had no real information (ie. Recommendations from family, friends, etc) about any of the listed places, which would you contact first? Chances are you would start with the company that has the most positive reviews. In the search example I've provided, I would contact MasterWorks Automotive first. After that, I would most likely check out Westown Tire & Auto Repair and then maybe Simon's Auto Services (but some of that may depend on my location).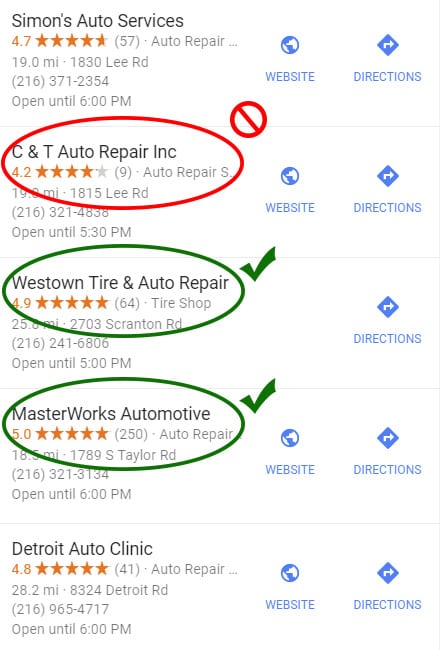 Now it gets fun….who are you are least likely to contact? The answer for me is C&T Auto Repair. Why? Because although a 4.2 Google Rating isn't bad, there are ONLY 9 reviews of the company. For all I know, C&T Auto Repair is ACTUALLY the best place for me to go, but because they don't have nearly the number of positive reviews as their competitors, I won't even give them a chance. In addition, a quick check on Facebook shows they have received NO reviews and their page has not been updated since 2013!
The scenario outlined above occurs EVERY SINGLE DAY, which is why Online Reputation Management is so critical! Let's take a look at some statistics from the last year:
97% of people now search for local businesses online
More than half of people ages 18-35 trust online reviews

 

MORE

 

than friends and family recommendations
85% of people surveyed trust ONLINE reviews as much as personal recommendations
73% of consumers form an opinion after reading just seven (7) reviews!
68% of consumers say positive reviews make them trust a local business more
44% say a review must be written within ONE (1) MONTH for them to consider it relevant.
If the above numbers aren't eye opening to you, the fact that Google now uses reviews within its own "Google My Business" platform to influence up to 10% of the search engine ranking should be!
The fact is online reviews of your business are more important than ever, and failure to manage your online reputation can result in lost business that you didn't even know existed! However, making the management of your online presence and reputation a focal point of your marketing effort can do one of two things: 1) make you more relevant by closing the gap between you and any competitors "ahead" of you or 2) help put some distance between you and your competitors by making your online presence superior to theirs! In either scenario, collecting more positive reviews represents a growth opportunity at a relatively low-cost, which is good news for any business.
If you need some help with online reputation management, I offer a small package for only $150/month that will make collecting and managing reviews for your online presence a focal point for your business! Contact me today to learn more.
I have been fortunate to have spent my entire career in marketing, from my first job as a marketing assistant & graphic designer, to creating the strategic direction and overseeing a team of marketing professionals for a $200-Million company.
My marketing experiences, successes and failures are the foundation on which I started Ward Marketing Consulting, and it is my goal to take what I've learned and apply it to each and every one of my clients.
If you're looking for a marketing consultant to provide an objective look at your marketing efforts, need a strategy for your digital marketing plan, or simply need help executing the plan, please contact me today!
-Tim Ward